20/01/13 20:36
Convergences with poetry
19 May 2013, 2pm (doors open 1.30pm)
Tokyo National Museum, Kujokan tea house (entry from the West Gate only; you cannot enter through the main museum gate. see map below)
Nearest stations (by foot): Uguisudani (9 minutes), Ueno (12 minutes), Nezu (15 minutes)
Six pieces, all composed by Daryl Jamieson, all concerned with different approaches to and relationships with poetry.
•
on Love to be Endured
for biwa solo (a setting of two waka — traditional Japanese 5-line poems — by
Shokushi Naishinnō,
probably my favourite of the mediaeval Japanese poets)
•
tú caerás conmigo
for violin solo (one of three pieces I wrote in response to the Great East Japan Earthquake in March 2011, based on a Pablo Neruda love sonnet)
•
Dawn Prayers
(2013 version) for voice, biwa (with voice), shakuhachi, and koto (a setting of seven waka from the anonymous mediaeval Buddhist tale
A Lengthy Tale for an Autumn Night
)
•
plaintive belling
(new work) for koto solo (based on seven poems from
Ogura Hyaku-nin Isshu
—
100 poets, one poem each
)
•
dancing phlogiston
for shakuhachi solo (based on a haiku I wrote myself in English)
•
Yume Gatari
(new work) for voice, shakuhachi, and violin (a setting of a poem written for me by Eiko Sadamatsu, the wonderful poet who wrote the texts for
Spectral (for Kazuo Ohno)
as well)
The performers are:
Mika Kimula, voice
Shungo Mise, violin
Junko Ueda, satsuma biwa
Christopher Yohmei Blasdel, shakuhachi
Nobutaka Yoshizawa, koto
Space is limited, so please reserve by emailing
concert@daryljamieson.com
.
Reserved tickets are ¥2500, tickets at the door will be ¥3000.
View Larger Map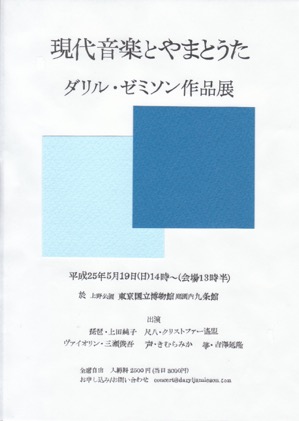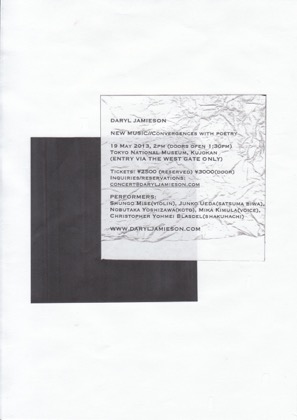 20/01/13 20:32
Welcome to DarylJamieson.com 2.0.
And so my new website is launched. Hopefully you find it more feature-rich, if not quite as moody as the previous black-and-blue iteration. This version now comes with full scores and recordings: see the
media
page!