23 September 2016 - 'muons' for solo percussion and fixed media to be premièred by Shiniti Ueno
08/07/16 11:46
On 23 September, my new new piece
muons
for percussion and fixed media will be premièred by Shiniti Ueno at Ōmigakudō in Tokyo Opera City.
muons
was commissioned by Phonix Promote with assistance from the Canada Council for the Arts.
This piece is my first for more than five years including fixed media, so was an exciting challenge for me. I made field recordings in Canada, the UK, Korea, Kyoto, and Kamakura and assembled them to accompany a score made of delicate, natural percussion instruments.
The other composers featured on the programme are two of my heroes, Christian Wolff and Morton Feldman, as well as two Japanese composers Takehito Shimazu and Toshiro Nakagawa who will also have new pieces premièred.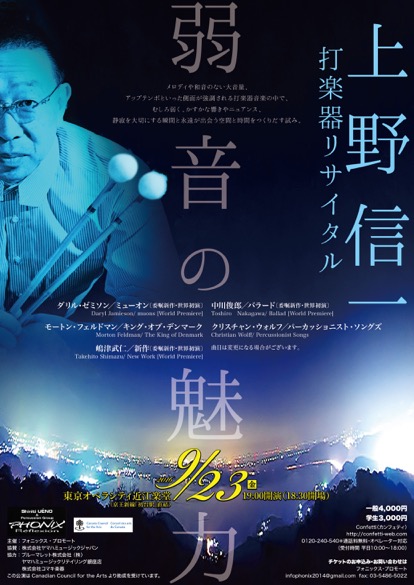 Location:
Ōmigakudō
Tokyo Opera City, 3F
3-20-2 Shinjuku, Shinjuku, Tokyo
We acknowledge the support of the Canada Council for the Arts, which last year invested $153 million to bring the arts to Canadians throughout the country.
Nous remercions le Conseil des arts du Canada de son soutien. L'an dernier, le Conseil a investi 153 millions de dollars pour mettre de l'art dans la vie des Canadiennes et des Canadiens de tout le pays.